2017-10-05
New Delivery Method: Omniva Parcel Lockers
To make your online experience even more easy and flexible, EshopWedrop introduces a new collection point service, the Omniva Parcel Lockers!
Omniva Parcel Lockers, provides you with a self-service delivery location to pick up your online orders from any sender, any retailer, at any time!
The Parcel Lockers are currently available in a variety of location throughout Lithuania
Why to use the Omniva Parcel Lockers?
Instead of delivering your parcels to your business, home or even friend's address you can select an Omniva Parcel Locker most convenient to you and pick up your orders at the time that works better for you!
To find a Parcel Locker near to you, please click HERE
How it works?
Shop form any online retailer and deliver to your country by using EshopWedrop. Once your parcel arrived at EshopWedrop Warehouse, you will receive an email to choose the delivery option most convenient to you

Select the Omniva Parcel as your delivery option and search for the Omniva Parcel Locker location most convenient to you

Use the Parcel's Locker location as your delivery collection point

Once your parcel arrives on your selected Parcel Locker, you will receive a notifying text or email with your personal Parcel Code.

Go to the Parcel Locker, use your personal code you received by text and collect your parcels.
Keep in mind! You can collect your parcel within seven days. If you do not collect your parcel during that period, then your parcel will be returned to the sender. Check the Parcel Machine filling and emptying times HERE
How much it costs?
You can always control your parcels cost when shopping with EshopWedrop!
Step.1 Calculate the EshopWedrop Delivery Cost
Visit the EshopWedrop Parcel Calculator to check how much your parcel costs to be delivered in Estonia
Step.2 Calculate the Omniva Parcel Locker Cost
Once your parcel arrives on the EshopWedrop warehouse, you can then place your delivery order on EshopWedrop website, select Omniva Parcel as your collection point and check the cost.
Promo Period - To celebrate this new collection service we are offering you a special promotion valid for the month of November of only €1.20, for any single parcel weights up to 30kg and on top of the prices you pay for the EshopWedrop services on delivering your online orders to Lithuania (size restrictions applied).
Check the example below to help you calculate your total cost or visit the EshopWedrop Calculator
Total Cost Example including EshopWedrop & Omniva Parcel Lockers Cost
Prices Start from: EUR 3.19 for a parcel from LT to LT Omniva Parcel Machines
Prices Start from: EUR 3.99 for a parcel from PL to LT Omniva Parcel Machines
Prices Start from: EUR 4.09 for a parcel from DE to LT Omniva Parcel Machines
Prices Start from: EUR 4.19 for a parcel from UK, IT and FR to LT Omniva Parcel Machines
Calculate your Total Parcel's cost HERE
 
Win a 50€ Amazon Voucher
Surprises never end with EshopWedrop!
Select the Omniva Parcel as your collection point and automatically enter the competition of your chance to win one of the four - 50€ Amazon Vouchers !
The competition runs in all 3 Baltic countries that EshopWedrop operates in (LT, LV, EE).
The competition ends on the 31st October 2017 and winners will be announced on the 2nd November!
Good Luck!

Vouchers qualified on the competition: Amazon.uk, Amazon.de, Amazon.fr, Amazon.it
If you need any help please do not hesitate to contact our Customer Service team:
Tel.: +370 616 48148
Email: info@eshopwedrop.lt
Call us on Skype: skype
By using the Eshopwedrop website you agree to our use of cookies as described in our cookie policy. Read more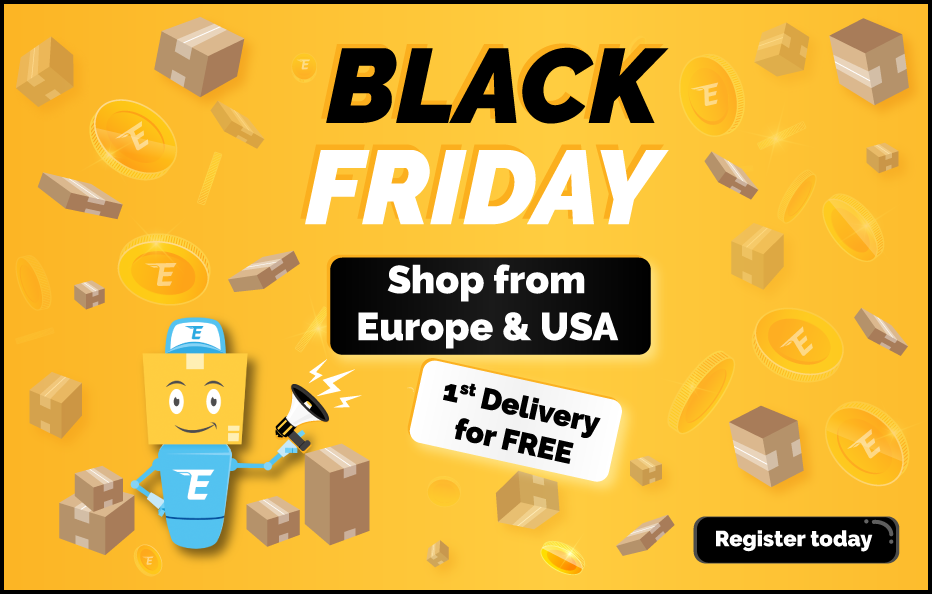 Please wait while we will validate your ZIP code