2019-04-15
April Sales 2019
Did you know that the mid-season SALES are already ON in Europe and USA?
Awesome brands like ASOS, Victoria's Secret, NEXT, John Lewis and many others are selling your favourite items for prices up to 80% OFF right now and we can help you get them all at your door in Lithuania!
Sounds interesting, right? We know! So let us tell you how easy it is to save on your Spring shopping!
EshopWedrop is a smart delivery service that helps you get international online orders from retailers in Europe and USA to your home in Lithuania, with delivery costs starting from just €2.79!
All you have to do is follow the steps below:
Place as many online orders as you want from your favourite brands in Europe and USA

Use your personal EshopWedrop delivery address at the checkout instead of your house address

Let EshopWedrop do its magic and deliver your parcels at your address of choice or delivery point in Lithuania
Check out April BEST deals:
UK
Fashion
ASOS
Men's & Women's Fashion Sale – up to 70% OFF
New Look
Men's Sale – Up to 80% OFF
Matalan
Men's Sale – Up to 80% OFF
House of Fraser
All Items Sale - Up to 50% OFF
Nelly
Women's Sale – Up to 70% OFF + 10% Extra OFF with Code "EXTRA10"
Kids
Matalan
Children's Items Sale - Up to 50% OFF
Debenhams
Kid's Clothing & Accessories – Up to 30% OFF
River Island
Girls Sale – Up to 50% OFF
Elc
Selected Toys – Up to 50% OFF
PolarnoPyret
All Items Sale – Up to 20% OFF
Home
House of Fraser
Home & Furniture Sale - Up to 50% OFF
Tkmaxx
Home & Furniture Sale – Up to 80% OFF
Argos
Lighting Sale – Up to 20% OFF
George
Homeware Sale - Up to 50% OFF
Dunelm
Homeware Sale – Up to 20% OFF
USA
Fashion
Tahari
Dresses & Jumpsuits Sale – Up to 50% OFF with code "Dressy"
Forever 21 USA
Women's Fashion Sale – Up to 50% OFF
J.Crew Fractory
All items Sale - Up to 40-60% OFF
Romwe
Women's Dresses Sale - Up to 40% OFF
Boden
All Womenswear – Up to 70% OFF
Kids
J.Crew Fractory
All Items Sale - Up to 40-60% OFF
Carters
Boys Clearance – Up to 70% OFF
Oldnavy
All Children's Items Sale – Up to 50% OFF
Childrensplace
All Children's Items Sale - Up to 60% OFF
Gap
All Children's Items Sale – Up to 60% OFF
Home
Walmart
Furniture, Decor & More - Up to 35% OFF
Urbanoutfitters
Home Décor Sale - Up to 40% OFF
Anthropologie
Home & Furniture Sale – Up to 25% OFF
Overstock
All Items Sale – Up to 70% OFF
Wayfair
Outdoor Furniture Sale – Up to 70% OFF
Italy
Fashion
Diffusiontessile
Bags & Accessories - Up to 50% Off
Calcionshop
Football Clothes & Shoes – Up to 70% OFF
Graffiti Shop
Men's Fashion - Up to 50% OFF
Kids
Chicco
Baby Clothes Sale – Up to 50 %Off
Bata
Kid's Shoes Sales – Up to 50% OFF
OVS
Kid's Clothing Sales - Up to 70% OFF
Home
Sediarreda
Furniture Sale -Up to 50% OFF
Kasanova
All Items Sale - 25% Off + Extra 25% OFF
Made in Design
All Items Sale – Up to 45% OFF
Poland
Fashion
MountainWarehouse
Mountain Equipment - Up to 70% OFF
Zalando
All Items SALE - Up to 50% OFF
Kids
Limango
Concord Baby strollers & Car Seats Sale – Up to 60% OFF
5.10.15
Children's Jackets Sale – Up to 50% OFF
Home
Allegro
Home and Garden Sale – Up to 70% OFF
Vinotti
Furniture and Décor Clearance – Up to 60% OFF
France
Fashion
Monoprix
Women's Sale – Up to 60% OFF
Kids
LaRedoute
Children's Items Sale - Up to 80% OFF
Home
Auchan
Furniture and Décor Sale – Up to 50% OFF
Deals, tips and tricks are posted on a regular basis by our sales hunters on Facebook, so stay up to date, follow us today!

Not an EshopWedrop member yet?
Sign up today, unlock your EshopWedrop addresses and receive your first EshopWedrop delivery for FREE (T&C apply, find more)
Happy Sales Hunting,
EshopWedrop Team
By using the Eshopwedrop website you agree to our use of cookies as described in our cookie policy. Read more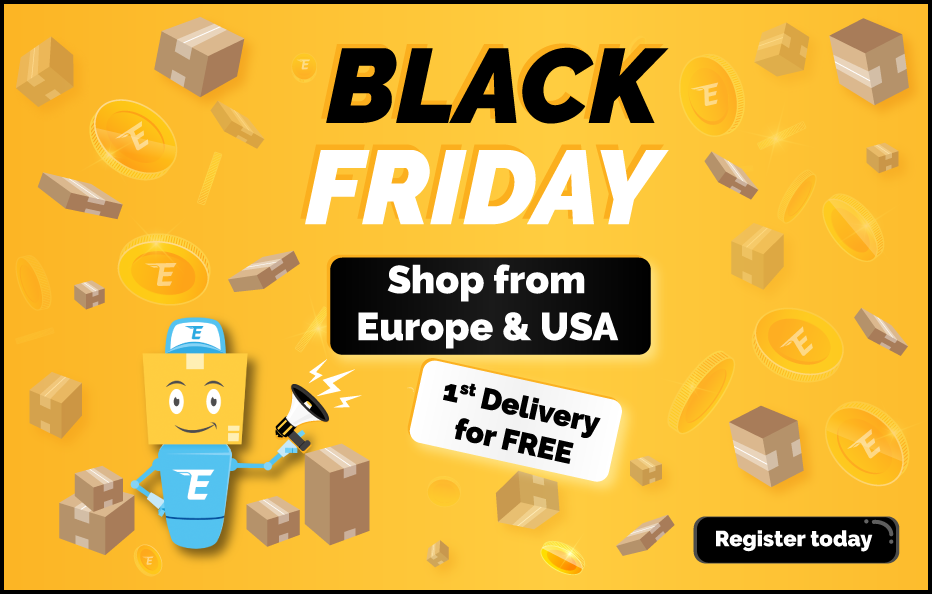 Please wait while we will validate your ZIP code